COST SAVINGS AND LONGEVITY
We will work with you from the outset to ensure cost savings on the construction of the whole project, while delivering a high quality product that will stand the test of time and meet your individual needs. Your long term peace of mind is our top priority.
SAFETY AND PROTECTION:
New Zealand has diverse and extreme weather conditions, from harsh sun to extreme wind, rain and hail. Windshadow has developed systems to meet all of these extremes to protect your livelihood from the elements.
Buy From Us
We can provide all listed products in custom quantities/lengths - please enquire.
Pickup or delivery available.
Download our Price List (pdf). View our Terms of Business (pdf).
Calll 022 065 3085 to enquire/order.
All prices exclude GST. All products/goods remain the property of Kiwi Cable & Wire Ltd until paid in full. International steel prices are volatile and bulk orders over 2 tonnes may require indent orders with 12-14 weeks delivery time. Please request a quote for large orders.
Products/goods supplied by Kiwi Cable & Wire comply with AS/NZS 4534:2006 - Zinc and zinc/aluminium-alloy coatings on steel wire.
Cable Hardware: Line Splice, 3 / 4 / 6 / 7.5 mm (pair)
Galvanised Steel pre-formed line splice. Used for joining cable.
3.2 mm (660mm length) / pair = $3.94
4 mm (800mm length) / pair = $4.64
6 mm (800mm length) / pair = $6.00
7.5 mm (1100mm length) / pair = $8.00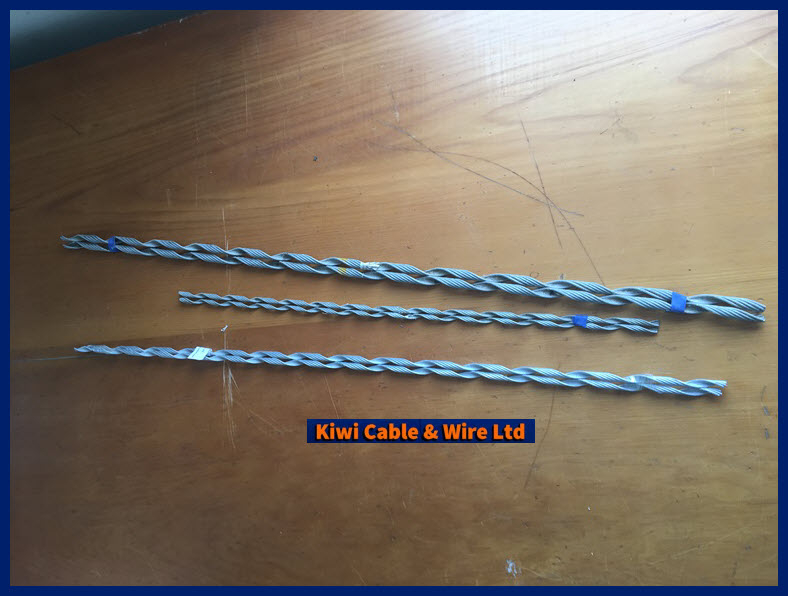 * 3.2 mm & 4 mm not shown.